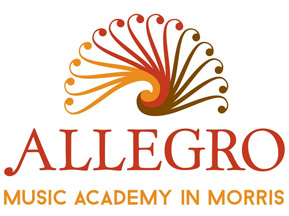 Why study music with Allegro?
Allegro Music Academy in Morris is the most complete and inclusive music school in Morris County. Building on the highly successful instrument sales and rentals, lessons and ensembles at The Music Shop, our school offers everything a beginning or advanced musician can require in one place. If you seriously want to enjoy music of any style, at any age, on every instrument, the Music Academy in Morris is the place for you!




13 reasons to make the Allegro Music Academy in Morris your music school:


Lessons on Flute, Oboe, Clarinet, Saxophone, Bassoon, French Horn, Trumpet, Trombone, Tuba, Violin, Viola, Cello, Bass, Guitar, Mandolin, Ukulele, Drums, Piano and Voice.
Allegro offers lessons on all of the band and orchestra instruments as well as piano, guitar, bass, mandolin, ukulele, all drums and voice lessons from opera to pop. We individualize our lessons to suit your needs and your style.
In-House Ensembles. A group for everyone!
One of the most unique aspects of Allegro is our in-house ensembles. Music is meant to be played or sung and HEARD! There is no greater joy than sharing your talents with a group. Even our Kindermusik program has infants and toddlers making music together. We also have beginning Suzuki Violin classes (4-9 year olds), String Orchestras in 3 levels, Jazz and Wind Ensemble, Rock Bands and chorus. Don't just practice alone. Put your music together with others today!
Highly qualified, diversified and customized staff with a 40 year history of excellence.
The Allegro Music Academy in Morris staff is university trained, highly experienced in performing and teaching and enthusiastic to help you achieve your individual goals. All instructors hold degrees in music and have years of experience. We offer lessons and programming 7 days a week with a front desk and office staff to answer all your questions. Learn more about our teachers
Programs for the youngest musicians.
Allegro Music Academy in Morris cares about getting music started right. Parents with their children under 6 will love our Kindermusik program with our certified teacher. Our Suzuki Beginning Violin classes take 4-9 year olds and teach them how to play on violin sized and provided by our expert staff. Your child will go from learning how to hold the instrument to an onstage performance in 3 months!
Flexible lesson times and fully equipped studios.
The Music Shop is one of the finest facilities in Morris County with 15 lesson studios fully equipped with the newest technology, soundproofing and grand pianos or keyboards. All our studios have glass doors or cameras for parents to view or you can always sit in on a lesson. Lessons are taught Monday through Saturday from 9:00am-9:00pm. We can even schedule more than one lesson at the same time for siblings studying different instruments.
The Music Shop rentals and sales of all instruments and an onsite repair shop.
Allegro Music Academy in Morris can provide quality instruments for the beginner or advanced student through our retail store and a repair shop to help maintain your instrument. The Music Shop rents instruments to schools throughout NJ at the most competitive rates. The store will also supply all lesson materials and accessories for your instrument.
Free recitals and pop performances.
Music is made to be shared and there is no better feeling than taking a bow for a well-deserved performance. Whether you are playing at a formal recital or just sharing a favorite piece in our coffee shop, all musicians love applause! We also participate in community outreach and benefit concerts. Allegro creates opportunities constantly to have our musicians heard and appreciated.
Convenient location off 287 in Boonton.
Just minutes from everywhere in Morris County and close to Essex and Passaic locations, the Music Shop is always easy to find with convenient parking.
Comfortable waiting area and Daily Joe Café.
No other music school can compare to our parent waiting lounge with leather couches, café tables and free WiFi. Downstairs is our Daily Joe Café featuring gourmet coffees and treats plus a full sandwich and pizza menu. No more waiting in a cold car or on a folding chair.
Free Photo Day.
Come to our Fairs in the Spring and Fall and have your picture taken for a serious memento or just for fun.
Incentive bands and Perfect and Perform club.
We encourage our students with a ladder of accomplishments signified with an arm band, certificate and trophy as well as a photo board with all our performers displayed by our studios.
Monthly Newsletter
Our full time office staff will put together a monthly newsletter featuring a student of the month, Allegro activities, a featured teacher, and recital and concert schedules.
All lessons on a monthly basis.
No long term contracts. All lessons are billed monthly with master classes offered for any missed lesson. We only want students who want to study.
It's easy to take the next step. Contact Us to sign up today. Lessons are filled on a first come basis so don't miss out.